Grow to Order
Seed to harvest, many are ready in 7-14 days. This means we have super FRESH greens available weekly. Wholesale & bulk pricing available upon request .
CSA Subscription
Community-Supported Agriculture "CSA" is the perfect opportunity to GROW WITH US! Join our subscription service, support our family farm AND get fresh, nutritious greens delivered weekly. Simply provide your own reusable quart jar.
Farmer's Markets
Connecting face to face with those we grow for is what keeps US going and growing! Markets run seasonally in our area and are the perfect opportunity to meet new people AND grow & give samples of FUN new varieties of Microgreens.
Online Classes
Our selection of online courses & remote learning opportunities are a joy and a honor to bring to YOU. Learn how to grow microgreens and "old fashioned skills" from the comfort of your own home.
Microgreen Supplies
We have specially curated a list of our favorite go-to microgreen seeds, supplies and resources. If it's not tried and true we don't share it with you!
Microgreen Recipes
Enjoy learning and exploring our favorite microgreen flavors and recipe ideas. Homemaking without Fear blog hosts all our favorite microgreen recipes.
MT Wild Roots is proud member of the Made in Montana Program that supports local artists, craftsmen & producers in our area. As a 5th generation Montana farming & ranching family, our roots run deep & wild in the soil. We grow microgreens using the highest standards of cleanliness & quality. Seed & grow medium is NON-GMO and certified organic. No fertilizers, or pesticides. Even our packaging is certified compostable because it too is made from plants!
Just a few of our Favorites
From spicy to mild, there are Microgreens to suit any taste!
Find our Microgreens Featured Locally
Intense flavor, vivid colors & crisp texture matched to their culinary versatility and exceeded by their nutrient- richness
Need help in choosing the right Micros?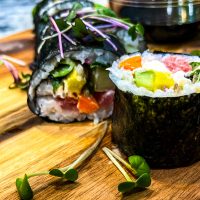 Consider what dishes you like to cook in your home and how you plan to use your Microgreens. Microgreens can be incorporated in all kinds of dishes: Sandwiches, wraps, sushi, ramens, salads, noodle dishes and tacos are just SOME of our favorite ways to get micros in our diet.
If your family loves spice consider a Spice Mix, Radish, Arugula or flavorful Mustard.
Do you eat with your eyes first like me?? Then perhaps a colorful mix like Rainbow or Colorful Radish would be perfect. Have you seen Amaranth Microgreens? Breathtaking. . .
All about the health aspects? Broccoli and all other brassicas pack in the nutrients. Some studies show Red Cabbage Microgreens to have up to 40 times the nutrient density of it's mature counterpart.
Picky eaters? Sunflower, Sweet Pea and Popcorn shoots are for you! Eat them like candy right out of the package.
Are you a member of MT Wild Roots Newsletter yet?
I am so glad you found us. Please consider sharing your name & email with me so I can stay in touch. I'll add you to my contact list so you never miss the latest updates and newest products from MT Wild Roots Co.